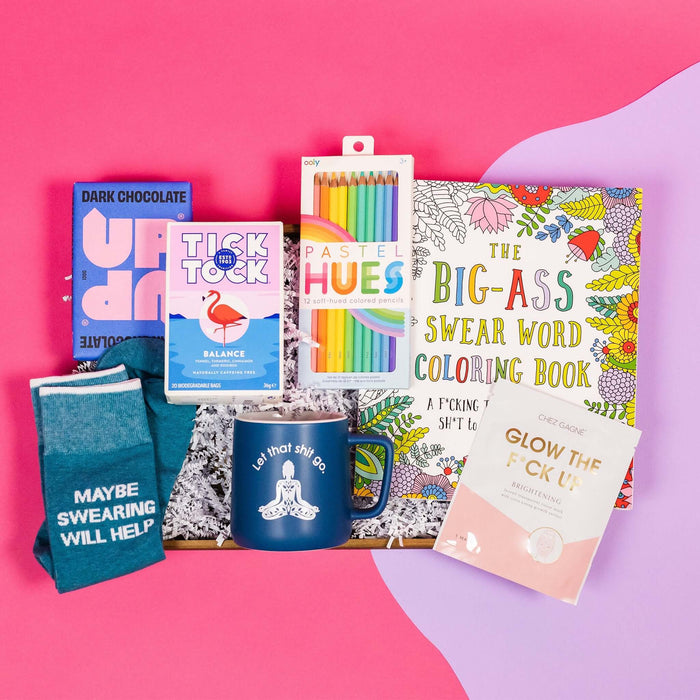 Maybe Swearing Will Help Gift Box
Have a friend feeling under the weather or a case of the blahs? Is the universe just being a total dick and you have a friend that could use some love? Show that friend some TLC with this care package.  This package includes all the necessary ingredients for a day cuddled at home binge watching all of Daisy Jones & the Six. Includes tasty Balance Tea, delicious chocolate because, hey, why not?, and tons of self-care — indulge in a face mask or shower steamer, and enjoy a movie marathon just like Bridget Jones would. With all the ingredients for a duvet day, In this box you'll find:  
Let That Shit Go Mug & Tick Tock Balance Tea 
Up Up Delicious Artisanal Chocolate  
Glow the F*ck Up Face Mask 
The Swear Word Coloring Book & Colored Pencils 
Maybe Swearing Will Help Socks 
Please leave your gift message in the CUSTOM MESSAGE box before adding this item to your shopping cart. We'll hand write it to include with the package.
*Individual items are subject to availability but not to worry - if something is out of stock, we'll swap it for a similar and equally awesome item.**Interested in adding or subbing products? Leave a message in the CUSTOM MESSAGE box or inquire by email! Contact our amazing shipping team at shipping@rockpaperscissorsshop.com.
**Items are packaged in our custom gift boxes with shredded paper & ribbon depending on items that fill the package.