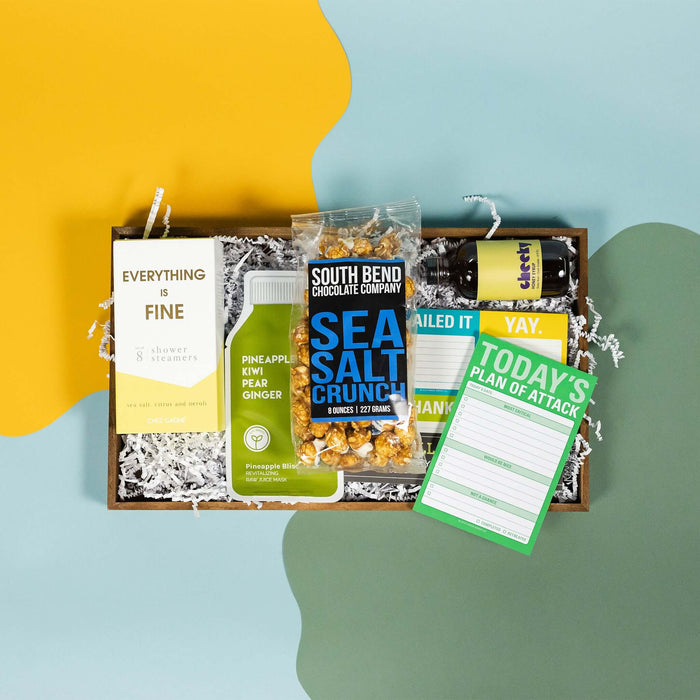 Make Shit Happen Gift Box
Introducing our "Make Shit Happen" encouraging gift box, because sometimes you just need a little snark to get shit done. Start your day with the "Everything is Fine" Shower Steamers, because nothing says motivation like pretending everything's fine while embracing the chaos of life. Rejuvenate your skin with the "Juice Cleanse" Face Mask, because if you can't cleanse your life, at least cleanse your pores. Mix up some sass-infused cocktails with the Cheeky Cocktail Syrup, because who says ambition can't be sweet and slightly intoxicating?! And when the munchies strike, indulge in the Sea Salt Crunch Popcorn, because salty snacks and productivity go hand in hand. Jot down your ambitious plans on the Knock Knock Sticky Notes, because making shit happen requires equal parts organization and snark. So, grab this gift box, channel your inner pop culture badass, and let the world know that you're here to make shit happen, one sassy step at a time.
This box includes: 
Everything is Fine Shower Steamers 
Juice Cleanse Face Mask 
Cheeky Cocktail Syrup 
Sea Salt Crunch Popcorn 
Knock Knock Sticky Notes 
Please leave your gift message in the CUSTOM MESSAGE box before adding this item to your shopping cart. We'll hand write it to include with the package.
*Individual items are subject to availability but not to worry - if something is out of stock, we'll swap it for a similar and equally awesome item.**Interested in adding or subbing products? Leave a message in the CUSTOM MESSAGE box or inquire by email! Contact our amazing shipping team at shipping@rockpaperscissorsshop.com.
**Items are packaged in our custom gift boxes with shredded paper & ribbon depending on items that fill the package.