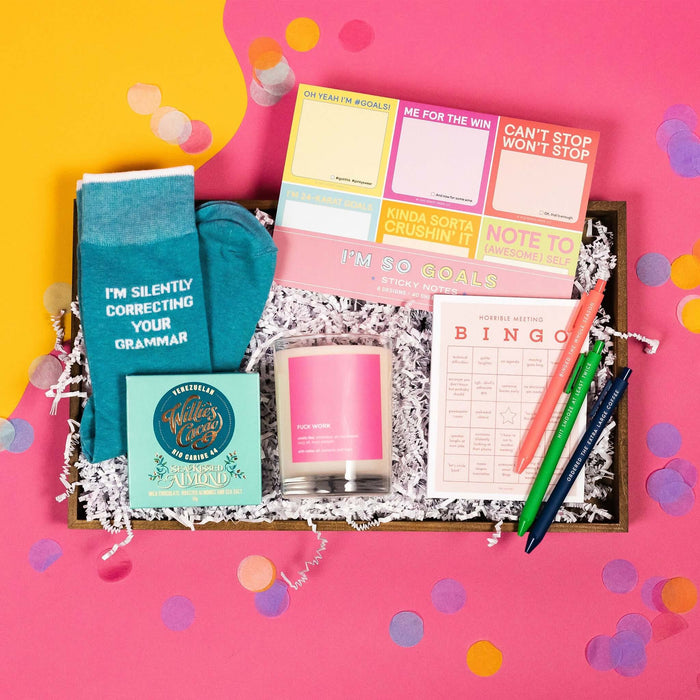 Introducing the Grammar Goals Gift Box! This grammar-themed gift box is perfect for the grammar snob in your life who loves to correct everyone. The Horrible Meeting Bingo Notepad lets them play a fun game while enduring mind-numbingly terrible meetings. The Sea Kissed Almond Artisanal Chocolate Bar serves as a sweet escape from all the linguistic atrocities they encounter on a daily basis. With the Goals Sticky Notes, they can jot down their ambitions to become the grammar police chief. And when they finally need to unwind, the "Fuck Work" Candle sets the mood for a well-deserved grammar-free zone. And of course, we can't forget the pièce de résistance—the "I'm Silently Correcting Your Grammar" Socks, because sometimes silence speaks louder than words (or misplaced apostrophes).This box includes: 
Knock Knock I'm So Goals Sticky Notes 
I'm Silently Correcting Your Grammar Socks 
Artisan Chocolate Bar 
Horrible Meeting Bingo Game 
Hilarious Work Themed Gel Pens 
Fuck Work Candle 
Please leave your gift message in the CUSTOM MESSAGE box before adding this item to your shopping cart. We'll hand write it to include with the package.
*Individual items are subject to availability but not to worry - if something is out of stock, we'll swap it for a similar and equally awesome item.**Interested in adding or subbing products? Leave a message in the CUSTOM MESSAGE box or inquire by email! Contact our amazing shipping team at shipping@rockpaperscissorsshop.com.
**Items are packaged in our custom gift boxes with shredded paper & ribbon depending on items that fill the package.