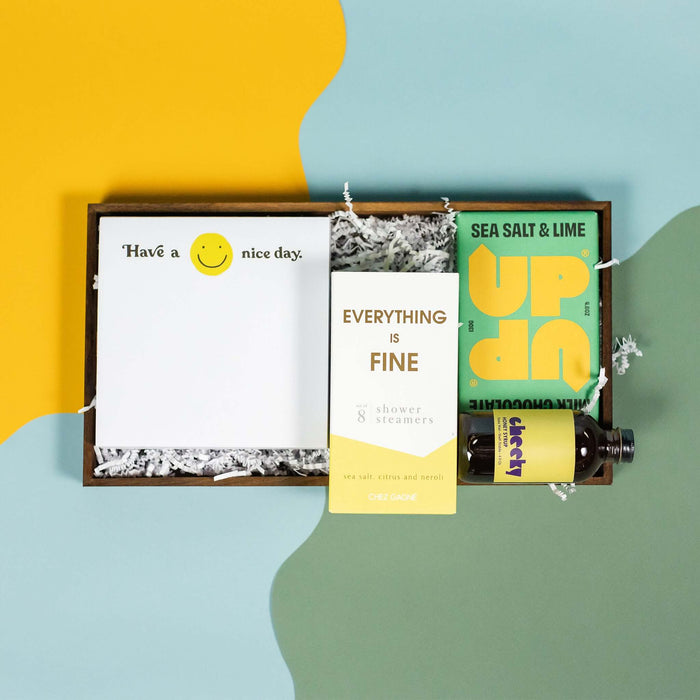 Everything is Fine Gift Box
Introducing our "Everything is Fine Gift Box," the perfect package for those who prefer their existence doused in sarcasm. Get your daily dose of passive-aggressiveness with the "Have A Nice Day" Chunky Notepad, because what's better than pretending everything's fine while writing your to-do list? Next up, we have the "Everything is Fine" Shower Steamers, because nothing says "serenity" like steamy water and a reminder that life is a hot mess. Indulge your taste buds with our Artisan Chocolate Bar, because chocolate understands your pain more than anyone else ever could. And to top it off, we've included the Cheeky Cocktail Syrup, because sometimes you just need a drink to validate your questionable life choices. So, treat yourself or send it to a friend who desperately needs a reality check disguised as a gift – because who says being fine has to be boring?This box includes: 
Have A Nice Day Chunky Notepad 
Everything is Fine Shower Steamers 
Artisan Chocolate Bar 
Cheeky Cocktail Syrup 
Please leave your gift message in the CUSTOM MESSAGE box before adding this item to your shopping cart. We'll hand write it to include with the package.
*Individual items are subject to availability but not to worry - if something is out of stock, we'll swap it for a similar and equally awesome item.**Interested in adding or subbing products? Leave a message in the CUSTOM MESSAGE box or inquire by email! Contact our amazing shipping team at shipping@rockpaperscissorsshop.com.
**Items are packaged in our custom gift boxes with shredded paper & ribbon depending on items that fill the package.