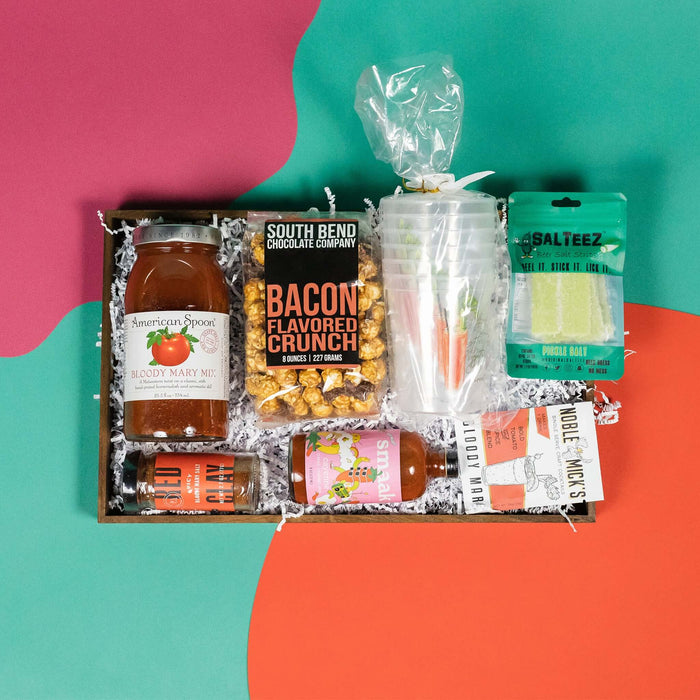 Breakfast of Champions Bloody Mary Gift Box
No need to channel your Wednesday Bloody Mary dance to conjure up this box, just throw it in your cart & we'll ship it from our door to yours! People who love Bloody Mary's have something special - they enjoy their vegetables with vodka for breakfast! They may be morning people, or just like the tangy kick of tomato juice with a secret ingredient. The recipe is open to interpretation, allowing creativity in making this perfect beverage. Some like it spicy while others prefer to keep it mild and simple. However you make it, Bloody Mary's are always a great way to get the day started! This gift box includes:
American Spoon Bloody Mary Mix 
Noble Mix Bloody Mary Mix  
Groceries & Booze Notepad  
Spicy Bloody Mary Salt  
Dill Pickle Pretzel Sticks  
Smaak Cayanne Hot Sauce  
Bacon Flavored Crunch Popcorn  
Bacon Flavored Chocolate Bar 
Please leave your gift message in the CUSTOM MESSAGE box before adding this item to your shopping cart. We'll hand write it to include with the package.
*Individual items are subject to availability but not to worry - if something is out of stock, we'll swap it for a similar and equally awesome item.**Interested in adding or subbing products? Leave a message in the CUSTOM MESSAGE box or inquire by email! Contact our amazing shipping team at shipping@rockpaperscissorsshop.com.
**Items are packaged in our custom gift boxes with shredded paper & ribbon depending on items that fill the package.