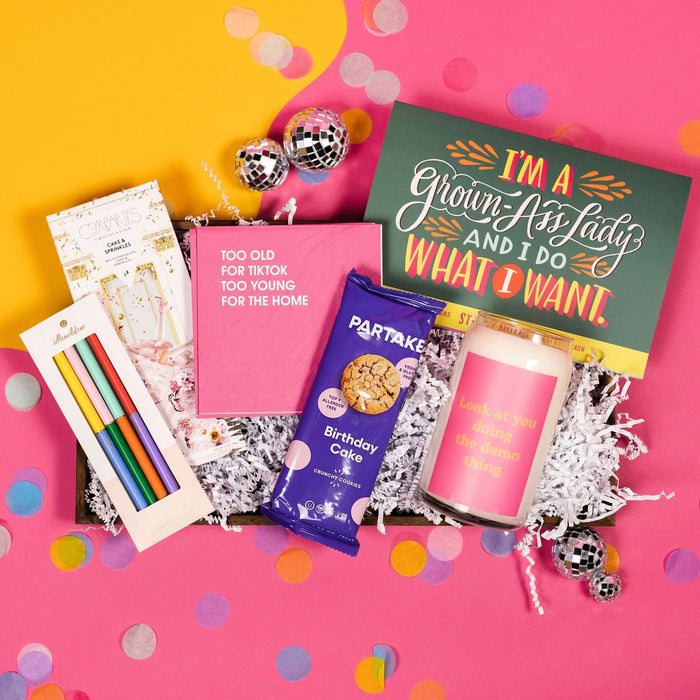 Introducing the "Grown Ass Lady Birthday Box" for the fierce and fabulous woman in your life! This sassy gift package includes:
Snarky napkins that are sure to make your recipient laugh, just like Lorelai Gilmore with her witty one-liners.
Birthday Chocolate Chip Cookies that we're certain  are better than Monica's famous chocolate chip cookie recipe from Friends!   
Hilarious Grown Ass Lady Sticky Notes- the ONLY way to share your true feelings about getting older

Birthday Cake Chocolate Bar- perfect to satisfy those chocolate cravings inspired by one of our favorite bands The 1975. Good luck putting this chocolate down— like Matty Healy says, "We're never gonna quit it, no we're never gonna quit it, no." 
Look At You Doin' The Damn Thing Snarky Candle 
Idlewild Bright Pen Set 

Overall, this birthday treat gift box is a perfect combination of humor, sweetness, relaxation, indulgence, and celebration!
Please leave your gift message in the CUSTOM MESSAGE box before adding this item to your shopping cart. We'll hand write it to include with the package.
*Individual items are subject to availability but not to worry - if something is out of stock, we'll swap it for a similar and equally awesome item.**Interested in adding or subbing products? Leave a message in the CUSTOM MESSAGE box or inquire by email! Contact our amazing shipping team at shipping@rockpaperscissorsshop.com.
**Items are packaged in our custom gift boxes with shredded paper & ribbon depending on items that fill the package.