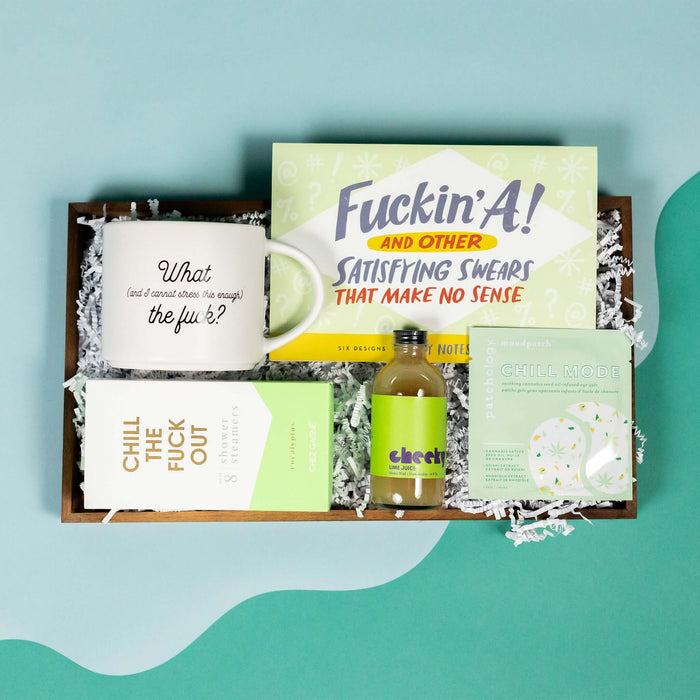 Looking for the perfect gift to bring some much-needed chill vibes into someone's life? Look no further than the Chill Out Gift Box! This delightful assortment of products is guaranteed to put a smile on anyone's face and provide some much needed R&R. This box includes What the Actual Fuck mug, Chill the Fuck Out Steamers, Sea Salt & Lime Chocolate Bar, Chill Mode Face Mask, Cheeky Cocktail Mix and Same Shit Different Day Notepad - all your essentials for chilling out! Channel your inner Seinfeld episode and repeat after me "Serenity Now" or embody the Dude and "just take it easy, man". So grab your Chill Out Gift Box today and head towards a life of Hakuna Matata.
WTF Mug

Chill the F Out ShowerSteamer

Cheeky 

Cocktail

 Mixer

Chill Mode Eye Gel Patches

F'ing A Sticky Notes 



Please leave your gift message in the CUSTOM MESSAGE box before adding this item to
your shopping cart.
We'll hand write it to include with the package.
*Individual items are subject to availability but not to worry - if something is out of stock, we'll swap it for a similar and equally awesome item.**Interested in adding or subbing products? Leave a message in the CUSTOM MESSAGE box or inquire by email! Contact our amazing shipping team at shipping@rockpaperscissorsshop.com.
**Items are packaged in our custom gift boxes with shredded paper & ribbon depending on items that fill the package.